The White Way Newsletter for September 2020
The September 2020 issue of The White Way newsletter has been published: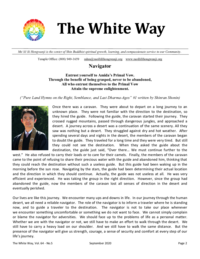 September 2020 (4.9 MB)
Highlights:
MINISTER'S MESSAGE – Rev. Toshiyuki Umitani
Memorial Service Information, including availability of Online Memorial Service
Announcement of our 2020 Fall Seminar: "Moiliili Hongwanji: A Zoom Tour of its Objects and Meanings"
Preschool News – Shared by Preschool Teacher Ms. Cori Uwaine
Announcement of cancellation of our Chicken, Chili, and Sushi Fundraiser
Announcement of tentative plans for a MH Market Place
Aloha Mrs. Rose Nakamura
Reflecting on the recent passing of Rose Nakamura – Shared by Cheryl Yasunaga
Moiliili Hongwanji BWA News – Shared by Donna Higashi, MH BWA President
Graduates' Recognition Service Recap
Haiku by the MHM Japanese Class
And much more!
Many photos!
We have back issues as well.