The White Way newsletter
The White Way newsletter is published seven times a year and distributed to Moiliili Hongwanji members.
Current Issue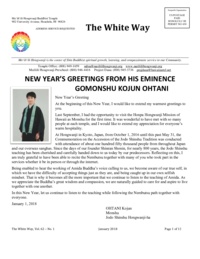 January 2018 (1.7 MB)
Highlights:
NEW YEAR'S GREETINGS FROM HIS EMINENCE
GOMONSHU KOJUN OHTANI
BISHOP'S MESSAGE: "The Value of Harmony" – Bishop Eric Matsumoto
PRESIDENT'S MESSAGE: "Embrace Change: Harmony – Accept Differences – Honpa Hongwanji Mission of Hawaii President Pieper Toyama
HAPPY NEW YEAR WISHES – Moiliili Hongwanji President Nancy Shimamoto
PRESCHOOL NEWS
PROJECT DANA NEWS
BUDDHIST WOMEN'S ASSOCIATION
NEWS
KERRY'S KORNER: "Notes from Kyoto" – Kerry Kiyohara
Many photos!
Back Issues
Issues are listed from most recent to oldest.