The White Way newsletter
The White Way newsletter is published seven times per year and distributed to Moiliili Hongwanji members.
Current Issue
The White Way Newsletter July-September 2018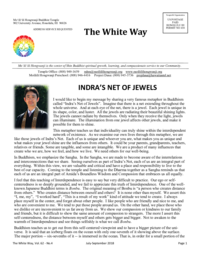 July-September 2018 (1.7 MB)
Highlights:
MINISTERS'S MESSAGE: "Indra's Net of Jewels" – Rev. Toshiyuki Umitani
PRESIDENT'S MESSAGE: Moiliili Hongwanji President Raymond Takiue, Jr.
"The Real Meaning of Obon" – contributed by Rev. Kerry Kiyohara
"Mahalo for another Successful MHM Bon Dance" – Moiliili Hongwanji President Raymond Takiue, Jr.
PRESCHOOL NEWS – Contributed by Jan Kuniyuki
PROJECT DANA NEWS – "Seniors like to have Fun!"
BUDDHIST WOMEN'S ASSOCIATION NEWS – Contributed by Jeanne Watari
"Mahalo BWA Ladies!" – Lois
FATHER'S DAY MEXICAN BRUNCH & SIESTA
OBON SERVICE AT MOILIILI JAPANESE CEMETERY – Contributed by Ann Nakata and Lois Ohta
MHM BYLAWS REVISION – Contributed by Ethel Oda
HAPPI COAT SALES – Contributed by Ruth Takemoto
And much more!
Many photos!
Back Issues
Issues are listed from most recent to oldest.