Silent Auction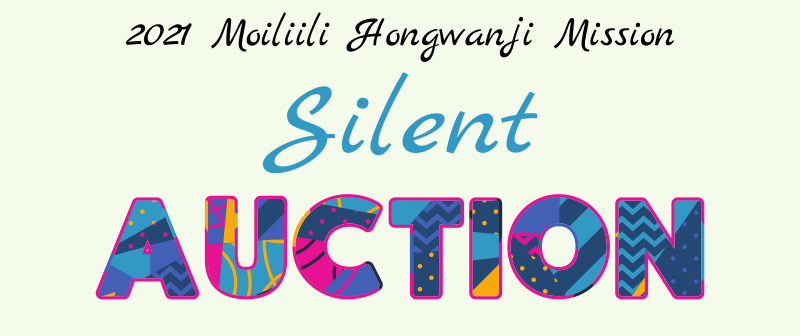 Welcome to the 2021 Moiliili Hongwanji Silent Auction
As part of this year's Online Shinnen Enkai (New Year's Party), Moiliili Hongwanji is having an online Silent Auction fundraising event. Please browse the items below and place bids on items that interest you. Your support is greatly appreciated.
Procedure: ALL SALES ARE FINAL. All bids will be done on a Google Docs Sheet.
A Google Account is not required. Bidding is anonymous.
Please call or email the temple office to get your Bid Number. You will then use this number for bidding purposes.
The office will email you the link to the Google Docs Sheet on which you can enter your bids. (A Google Account is not required. Simply click the link to open the Google Sheets document in your web browser. On smartphones, the Google Sheets app is required. Either way, bidding is anonymous.)
Bidding will START on Wednesday, Feb. 17 on the Google Docs Sheet.
Bidding will END Sunday, Feb. 21 at 12:30 p.m. (on the Google Docs Sheet.)
Winners will be announced, emailed, or called at the end of the Shinnen Enkai.
Please contact the temple office to arrange for pick up and payments. All items to be picked up by Friday, February 26.
Example:
Have fun and good luck bidding!
Tupperware Brand 5 pc containers
Value: $58
Starting bid: $20
Thermoflask 24 oz
Value: $20
Starting bid: $10
Mount Veeder Winery 2015 Cabernet Sauvignon Wine
Value: $25
Starting bid: $10
Precision 2018 Cabernet Sauvignon Wine
Value: $25
Starting bid: $10
Beautiful Handsewn Blue Lap Blanket
Value: $55
Starting bid: $25
Beautiful Handsewn Pink Lap Blanket
Value: $55
Starting bid $25
Puzzle Frame – Red Background Japanese Woman
Value: $40
Starting bid: $20
Puzzle Frame – Multi Color Background Japanese Woman
Value: $30
Starting bid: $15
Puzzle Frame – Light Blue Background Japanese Woman
Value: $25
Starting bid $10
Apples to Apples Board Game
Value: $20
Starting bid: $10
Set of 6 bowls
Value: $35
Starting bid: $15
Japanese Hazuka Purse
Value: $100
Starting bid: $50
Essential Care Basket #1 (w/ handle)
Buy it Now $60
Essential Care Basket #2
Buy it Now $40
Gift Basket #3 with Snacks & Starbucks Gift Card
Buy it Now $60
I'iwi Bird (Hawaiian Honey Creeper) on an Ohia Lehua Tree (Big Island) – Giclee print on canvas
Value: $150
Starting Bid: $60
Rosalie Prussing (1924-2011) Framed Print, Title: "Hawaiian Mountain Apple," Limited Edition 294/750
Value: $100
Starting bid: $50
Rosalie Prussing (1924-2011) Framed Print, Title: "Kailua Beach," Signed Limited Edition 38/750
Value: $150
Starting bid: $60
Sara Jun Chang Framed Art
Value: $200
Starting bid: $60
Essential Gift Basket #4
Value: $30
Starting bid: $12
Essential Gift Basket #5
Value: $25
Starting bid: $10
Essential Gift Basket #6
Value: $30
Starting bid: $12
Essential Gift Basket #7
Starting Bid $10
Essential Gift Basket #8
Starting Bid $8
Essential Gift Bag #9
Value: $45
Starting bid: $20
Essential Cosco Bucket
Value: $35
Starting bid: $15
$50 Gift Card: Big City Diner
Value: $50
Starting bid: $20
$50 Gift Card: Longs Drugs
Value: $50
Starting bid: $20
$15 Longs Gift Card (3 $5 cards) & Honolulu Cookie Company Cookies
Value: $25
Starting bid: $10
$20 Gift Card: The Cookie Corner
Value: $20
Starting bid: $6
$15 Gift Card: Starbucks (#1)
Value: $15
Starting bid: $5
$15 Gift Card: Starbucks (#2)
Value: $15
Starting bid: $5
---