"The White Way" newsletter, March 2021
The March 2021 issue of The White Way newsletter has been published: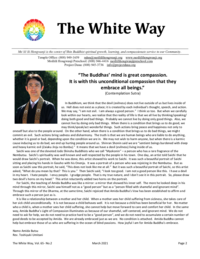 March 2021 (5.9 MB)
Highlights:
Minister's Message – Rev. Toshiyuki Umitani
COVID-19 Update
Sleep Habits Cheatsheet – Shared by Project Dana
Preschool Happenings – Shared by Preschool Director Ms. Wendy
Shinnen Enkai New Years Party 2021 Recap
Our Living Legends – By Nancy Shimamoto
And much more!
Many photos!
We have back issues as well.