"The White Way" newsletter, May 2021
The May 2021 issue of The White Way newsletter has been published: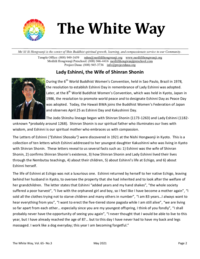 May 2021 (6.7 MB)
Highlights:
MINISTER'S MESSAGE: "Lady Eshinni, the Wife of Shinran Shonin" – Rev. Toshiyuki Umitani
Announcement regarding Temple Opening
Memorial Service Information
Announcement of Gotan-E Seminar
Sleep Habits Cheatsheet – Shared by Project Dana
My Young Days – Shared by Kathleen Komo
Preschool Happenings – Shared by Preschool Teacher Ms. Cori
Announcement of 2021 Virtual Bon Dance
Moiliili Hongwanji BWA News – Shared by Donna Higashi, MH BWA President
Recap of CBE seminar: "What is the Future of Jodo Shinshu Buddhism in the West?"
And much more!
Many photos!
We have back issues as well.