"The White Way" newsletter, September 2021
The September 2021 issue of The White Way newsletter has been published: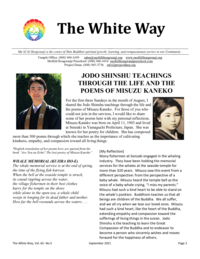 September 2021 (5.1 MB)
Highlights:
MINISTER'S MESSAGE: "Jodo Shinshu Teachings Through the Life and the Poems Of Misuzu Kaneko" – Rev. Toshiyuki Umitani
Talk by Linda Nagai
New Statewide Newsletter: Ka Leo Kāhea (The Calling Voice)
Joint Celebration of the 850th Anniversary of Shinran Shonin's Birth and the 800th Anniversary of the Establishment of the Jodo Shinshu Teaching
Announcement of Project Dana Headquarters is moving
Update on status of Nakookoo St. property and welcoming Project Dana to on temple premises – Raymond Takiue, Jr. and Rev. Toshiyuki Umitani
Kalua Pork Fundraiser
Preschool Happenings
Moiliili Hongwanji BWA News – Shared by Donna Higashi
2021 Fall Nembutsu Seminar registration form
And much more!
Many photos!
We have back issues too.