The January 2022 issue of "The White Way" newsletter is here
The January 2022 issue of The White Way newsletter is here.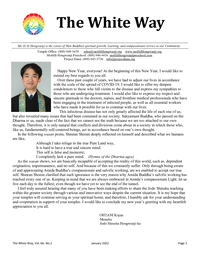 January 2022 (4.6 MB)
Highlights:
Message from His eminence Gomonshu Kojun Ohtani (Jodo Shinshu Hongwanji-ha)
New Year's Greeting from Bishop Eric Matsumoto (Honpa Hongwanji Mission of Hawaii)
Happy New Year! Akemashite Omedetou Gozaimasu! Hauoli Makahiki Hou! – Warren Tamamoto, MD, President, Honpa Hongwanji Mission of Hawaii
Minister's Message – Rev. Toshiyuki Umitani, Moiliili Hongwanji Mission Resident Minister
Market Place News
Invitation to Project Dana at Moiliili Hongwanji Mission's 33rd Volunteer Appreciation Service
NOMINEES OF 2022-2023 BOARD OF DIRECTORS – Nancy Shimamoto, Immediate Past President, Moiliili Hongwanji Mission Board of Directors
New BWA Transition Teams – Shared by Donna Higashi, MH BWA President
And much more!
Many photos!
We have back issues too.