"The White Way" newsletter, March 2022
The March 2022 issue of The White Way newsletter is here.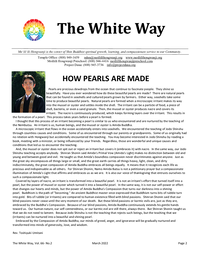 March 2022 (5.2M MB)
Highlights:
MINISTER'S MESSAGE: "How Pearls are Made" – Rev. Toshiyuki Umitani
Project Dana House Presentation – Karen Murakami
Excerpts from Bishop Matsumoto's talk at the 33rd Annual Project Dana Volunteer Appreciation Service
Shinnen Enkai Program 2022 recap
Moiliili Hongwanji BWA News – Shared by Lois Ohta, MH BWA President
Digitizing the White Way Radio Broadcast Tapes Update – Shared by Donna Higashi
Preschool News
And much more!
Many photos!
We have back issues too.