Invitation to Hybrid Service on January 15, 2023: HOONKO – SHINRAN SHONIN'S MEMORIAL SERVICE with Dharma message by Rev. Tatsuo Muneto

Dear Moiliili Hongwanji Members and Friends,
I hope this email finds you well within the Compassionate Light of Amida Buddha. I would like to invite you and your family to our Sunday Service at Moiliili Hongwanji on Sunday, January 15, 2023, at 9:00 am.
HOONKO – SHINRAN SHONIN'S MEMORIAL SERVICE (01/15/2023):
*Time: 9:00 am
*We hold Sunday Service in a hybrid setting. You can join us either in person or via Zoom.
Opening Remarks
Kansho (Temple Bell)
Vandana & Ti-Sarana
Toraiban
Sanbujo and Aspiration
Sutra Chanting: "Shoshinge" (*Service Book (PDF) is available online from here.)
Koraiban
Gatha: "Shinran's Journey"
Dharma Message: Rev. Tatsuo Muneto
Reading: "Shinshu Pledge (I)"
Nembutsu
Acknowledgments & Announcements
In-Person: Anyone is welcome to attend in person. Refreshments after the Service.
Online: Please click the Zoom link* to join in the service starting at 9:00 a.m.
ANNOUNCEMENTS
Feel free to invite your family and friends to our Sunday Service. Your donation is greatly appreciated. <Donate Now>
Request for Altar Flowers: We are always in need of flowers for our Temple and Columbarium altars. If you have flowers that are long-lasting or tall greens to share, please bring them to the temple by 4:30 pm on Thursdays or by 8:00 am on Fridays. Ginger and heliconia are good examples. Thank you for your help.
January 15 – Hoonko (Shinran Shonin's Memorial) Service at 9 am. Guest Speaker: Rev. Tatsuo Muneto (Retired Minister)
January 22 – Regular Sunday Service. Speaker – Rev. Toshiyuki Umitani
January 29 – Project Dana Volunteers' Appreciation Service
White Way Broadcast every Saturday at KZOO Radio (AM1210) from 7:45 am-8:00 am. Listen to KZOO Radio Online (Click "Listen to KZOO" on their website) – 1/14 Speaker: Dr. Warren Tamamoto (President, Honpa Hongwanji Mission of Hawaii)
February 19 – Shinnen Enkai (New Year's Party)
Toshiyuki Umitani
Resident Minister, Moiliili Hongwanji Mission

*The Sunday Service Zoom link remains the same each week. To receive the Sunday Service Zoom link, please
contact the office
, or subscribe to our
Weekly Email
of announcements from our
home page
.
---
Additional announcements:
1/22: Hawaii premier of award winning documentary film: Carving the Divine
Hawaii Premiere
Carving the Divine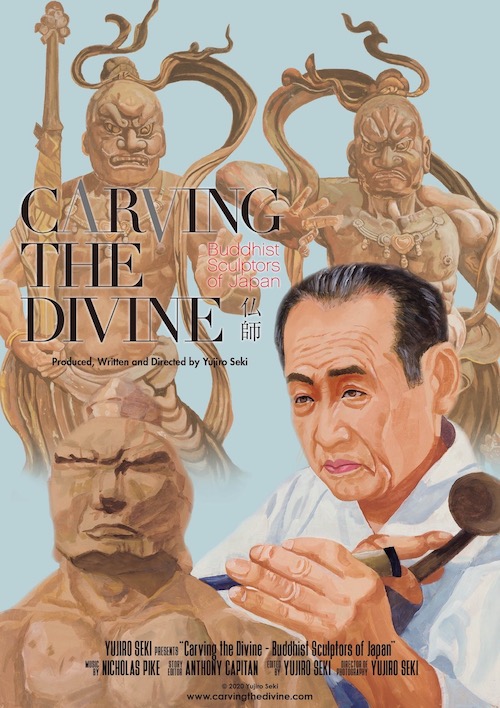 Award Winning Documentary Film
When: Sunday, Jan. 22, 2023, 11:30AM-2:00PM
Where: Honpa Hongwanji Hawaii Betsuin Buddhist Temple, 1727 Pali Hwy. (Enter via Lusitana Street.)
Open to the Public.
A fascinating look into the journey of mastering a 1,400-year-old tradition of the busshi. Yujiro Seki has captured on film a world unknown to most. The journey of becoming a master sculptor of Buddhist images is one in which one also gets to know oneself. Meet the producer, Yujiro Seki in person and a private viewing of the Amida Buddha image in the Main Sanctuary of the Honpa Hongwanji Hawaii Betsuin Buddhist Temple. Carving the Divine has been shown at 30 film festivals in 22 countries winning awards at 13 festivals such as the Best Director Award of a Foreign Language Documentary at World Cinema Milan and premiering at the famous Raindance Film Festival in London. Printable Flyer (PDF).
Go to https://youtu.be/ZBtdhue11UA to view official trailer.
Sponsored by the: Buddhist Study Center, Hawaii Buddhist Council and the Honpa Hongwanji Hawaii Betsuin Buddhist Temple. For more information, please call 808 536-7044 (HHHB Temple) or by email hqs@honpahi.org Donations accepted.
1/30: An evening with Ronald C. White on the topic Wisdom and Compassion
Insights on Healing a Deeply Divided Nation
Lincoln's Second Inaugural Address — Then and Now
When: Monday, January 30, 2023 , 7:00 to 9:00 pm
Where: In-person at Honpa Hongwanji Hawaii Betsuin
(Room to be determined.)
1727 Pali Highway, Honolulu, Hawaii
Please enter the temple campus from Lusitana Street.
Ronald C. White is the author of two New York Times bestselling presidential biographies. American Ulysses: A Life of Ulysses S. Grant [2016] won the 2017 William Henry Seward Award for "Excellence in Civil War Biography." He is also the author of A. Lincoln: A Biography [2009]. USA Today said, "If you read one book about Lincoln, make it A. LINCOLN." His new book, Lincoln in Private: What His Most Personal Reflections Tell Us About Our Greatest President, was published in May 2021. He is the narrator of the Random House Audiobook for Lincoln in Private. He has also written Lincoln's Greatest Speech: The Second Inaugural, a New York Times Notable Book, and The Eloquent President: A Portrait of Lincoln Through His Words, a Los Angeles Times bestseller.
He is presently writing a comprehensive biography of Joshua Lawrence Chamberlain, the Bowdoin college professor who was the hero of Little Round Top at Gettysburg. After the Civil War Chamberlain became Governor Maine, President of Bowdoin College, and a foremost lecturer on the Civil War. Dr. White is a graduate of UCLA and Princeton Theological Seminary, receiving a Ph.D. in Religion and History from Princeton University. He is a Senior Fellow at the Trinity Forum in Washington, D.C. He has taught at UCLA, Whitworth University, Colorado College, and Princeton Theological Seminary. He has lectured at the White House and been interviewed on the PBS NewsHour. He has spoken on Lincoln in England, France, Germany, Italy, Mexico, and New Zealand. He lives with his wife Cynthia in Pasadena California.
2/19: Save the Date! Join us for our annual Shinnen Enkai (New Year's Luncheon) on Sunday, February 19th, 2023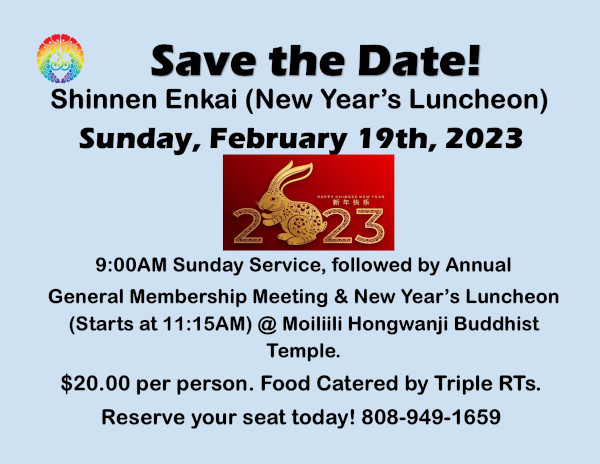 Join us for our annual Shinnen Enkai (New Year's Luncheon) on Sunday, February 19th, 2023 to be held at our temple! Temple service begins at 9:00am followed by the General Membership Meeting & Luncheon (starts at 11:15am).
$20/per person. Food will be provided by Triple RTS. Reserve your seat today!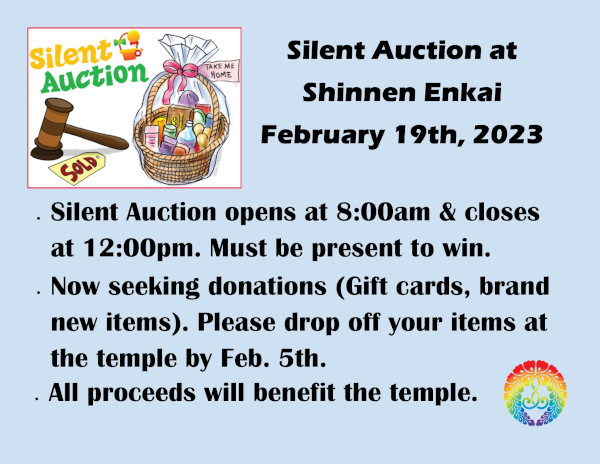 Also, the popular Silent Auction is back! We are now seeking donations- brand new items or gift cards. Drop off your donations to the temple by Feb. 5th. Silent Auction opens at 8am, closes at 12pm. Must be present to win. All proceeds will benefit the temple. We look forward to seeing you there.