Invitation to Sunday Service on February 19, 2023: SHINNENENKAI SUNDAY SERVICE, with Dharma message by Dr. Carl Becker

Dear Moiliili Hongwanji Members and Friends,
I hope this email finds you well within the Compassionate Light of Amida Buddha. I would like to invite you and your family to our Sunday Service at Moiliili Hongwanji.
SHINNENENKAI SUNDAY SERVICE (02/19/2023):
*Time: 9:00 am
*We hold Sunday Service in a hybrid setting. You can join us either in person or via Zoom.
Kansho (Temple Bell)
Vandana & Ti-Sarana
Remembrance Service
Sutra Chanting: "Verses Reaffirming the Vow" (*Service Book (PDF) is available online from here.)
Gatha: "Beautiful Sunday"
Dharma Message: Dr. Carl Becker (Professor, Kyoto University)
New Members Recognition
Reading: "Our Pledge"
Nembutsu
Acknowledgments & Announcements
In-Person: Anyone is welcome to attend in person. Refreshments after the Service.
Online: Please click the Zoom link* to join in the service starting at 9:00 a.m.
ANNOUNCEMENTS
Feel free to invite your family and friends to our Sunday Service. Your donation is greatly appreciated. <Donate Now>
Request for Altar Flowers: We are always in need of flowers for our Temple and Columbarium altars. If you have flowers that are long-lasting or tall greens to share, please bring them to the temple by 4:30 pm on Thursdays or by 8:00 am on Fridays. Ginger and heliconia are good examples. Thank you for your help.
Hongwanji Passport Program – Did you receive your passport? If not, please pick up one at the temple. Collect six stickers by visiting temples/Offices in the Honolulu District (Betsuin, Jikoen, Windward, Moiliili, HQ, and BSC).
February 26 – Sunday Service with the Lay Speaker Mrs. Nannette Ganotisi
March 5 – Spring Higan Service with the Guest Minister Rev. Bert Sumikawa
White Way Broadcast every Saturday at KZOO Radio (AM1210) from 7:45 am-8:00 am. Listen to KZOO Radio Online (Click "Listen to KZOO" on their website) – 2/18 Speaker: Rev. Tatsuo Muneto (Retired Minister)
Toshiyuki Umitani
Resident Minister, Moiliili Hongwanji Mission

*The Sunday Service Zoom link remains the same each week. To receive the Sunday Service Zoom link, please
contact the office
, or subscribe to our
Weekly Email
of announcements from our
home page
.
---
Additional announcements:
2/19: Dr. Carl Becker (Professor, Kyoto University)
The Dharma Message at this Sunday's 9:00 a.m. service will be given by Dr. Carl Becker (Professor, Kyoto University).
Dr. Becker's talk is entitled
"What Makes Our Year New & Happy,
a View from Japanese Buddhism."
2/19: Save the Date! Join us for our annual Shinnen Enkai (New Year's Luncheon) on Sunday, February 19th, 2023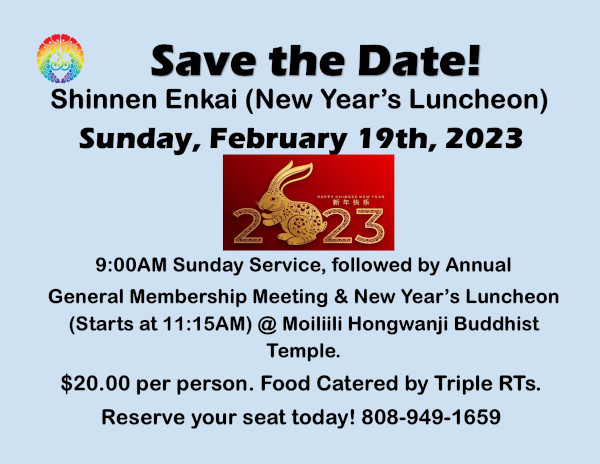 Join us for our annual Shinnen Enkai (New Year's Luncheon) on Sunday, February 19th, 2023 to be held at our temple! Temple service begins at 9:00am followed by the General Membership Meeting & Luncheon (starts at 11:15am).
$20/per person. Food will be provided by Triple RTS. Reserve your seat today!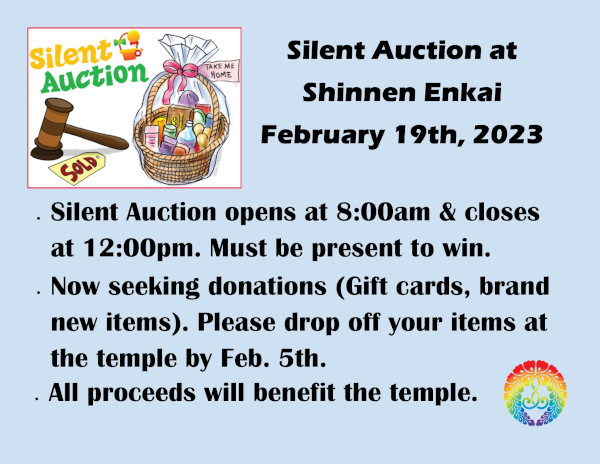 Also, the popular Silent Auction is back! We are now seeking donations- brand new items or gift cards. Drop off your donations to the temple by Feb. 5th. Silent Auction opens at 8am, closes at 12pm. Must be present to win. All proceeds will benefit the temple. We look forward to seeing you there.
2/19 4th VIRTUAL STATE DHARMA SCHOOL GATHERING
Sunday, February 19, 2023
9:00 am – 12 noon
"Sharing Joy Together"
9:00 AM: SERVICE
Dharma Message by Acting Rimban Yuika Hasebe of Honpa Hongwanji Hawaii Betsuin
9:40 AM: DHARMA SCHOOL & ADULT BREAKOUT ROOMS
10:30 – 11:00 AM: MAIN ROOM – DS/Adult Groups
11:00 AM: DS FAMILY SESSION ENDS
11:10 AM: DS TEACHERS/EDUCATORS SESSION:
Rev. Kevin Kuniyuki previews a new Dharma School Resource/Open Sharing of successful DS activities
12:00 PM: END
RSVP Deadline is February 4.
Click on the following link to register: https://forms.gle/aBxYUgWvQsAWZ53k7
The Zoom Link will be emailed to participants by Friday, February 17.
A Commission on Buddhist Education (CBE) Project of Honpa Hongwanji Mission of Hawaii
4/2 HBC BUDDHA DAY SERVICE 2023
Hawaii Buddhist Council
BUDDHA DAY SERVICE 2023
"Hanamatsuri" – Celebrating the Birth of Shakyamuni Buddha
Date:
Sunday, April 2, 2023
9:30 am (HST)
Place:
Jodo Mission of Hawaii
1429 Makiki Street, HNL
Phone: (808)949-3995
Message:
Dr. George Tanabe
"Why We Tell Stories?"
Feature Show: JATAKA TALES @10:45am
by Jeff Gere with Lesley Kline
(co-sponsored by BDK Hawai'i)
Free & Open to the Public
For more information: Please contact (808)949-3995 or email at
mail@hawaiibuddhistcouncil.org