HONGWANJI SPRING BAZAAR: Sunday, March 26, 8:30a to 1p at Hawaii Betsuin. Honpa Hongwanji Hawai'i Betsuin and sister Honolulu temples are participating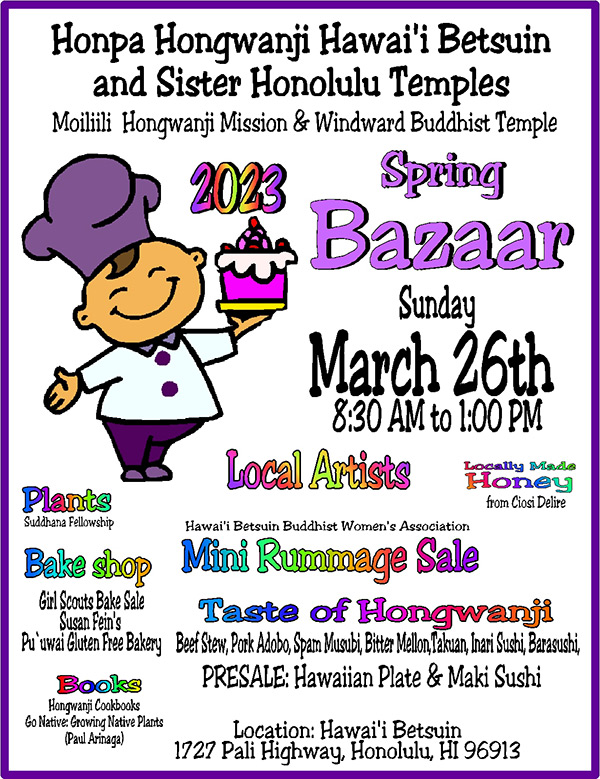 Spring Bazaar Highlights
"Ono-kine" Foods: waffle dogs, manju, bitter melon, takuan, inari sushi, barasushi, spam musubi, chicken katsu, pork adobo, Hawaiian honey and more!
Rummage Sale: housewares, clothes, much more. Deals galore!
Pre-sale for Pickup: Maki Sushi (order online on this page or purchase tickets at the office
Popup Arts and Crafts Sale in the lounge featuring local, innovative creators (see news item)
Specialty items from Moiliili Hongwanji and Windward Buddhist Temple in addition to Hawaii Betsuin
Baked Goods by Girl Scouts and Susan Fein's Pu'uwai Gluten-Free Bakery
Books: Hongwanji Cookbooks, Paul Arinaga's "Go Native: Growing Native Plants"
Plant Sale by Sudhana Fellowship.
Food Items Pre-Sale: Maki Sushi and Hawaiian Plate
Maki Sushi from Ige's: $7.75 per order
Hawaiian Plate from Haili's: $26 per order.
From Haili's Hawaiian Food. Includes mini laulau, kalua pork, rice, sweet potato, kululo, pineapple, haupia.
Place your pre-sale order online at https://hawaiibetsuin.org/event/spring-bazaar-2023/
More information
For more information, including Parking & Bus info, please see the main event posting: