October Sunday Services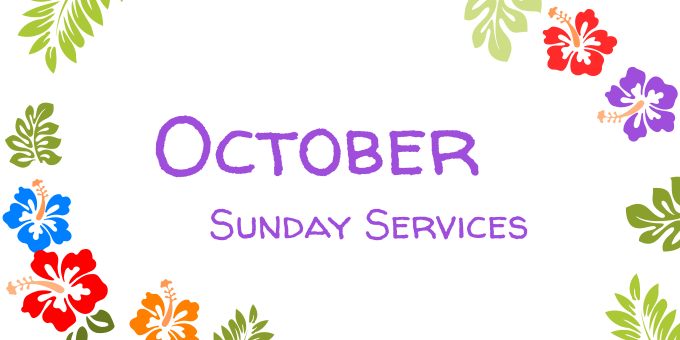 You're invited to our Sunday Services at Moiliili Hongwanji during the month of October. Everybody's welcome.
Time: 9:00 am

We hold Sunday Service in a hybrid setting. You can join us either in person or through Zoom.*
Public is invited.

9:00-1:00 pm
Rummage, Crafters, Plants, Food, Baked Goods, Games, and more!
Note: No regular Sunday service
October 8 Sunday Service: Remembrance Service
Speaker: Rev. Bert Sumikawa
Usually on the first Sunday Service of every month we have a Remembrance Service in which we honor loved ones (pets too) who passed away in that month (of any year). As your loved one's name is called during the service, you are welcome to offer incense or put your hands together in gassho and recite the Nembutsu. Please contact the office if you would like to honor your loved ones who passed away in the month of October.
October 15 Sunday Service
Guest Speaker: Rev. Frances Wong
Church of the Crossroads
October 22 Sunday Service
Speaker: Rev. Bert Sumikawa
October 29 Sunday Service
Lay Speaker: K.T. Cannon-Eger of Puna Hongwanji
Dress Up Day to follow after service.
* The zoom link for Moiliili Hongwanji's Sunday Services remains the same each week. If you have not received the zoom link yet, please contact the office, or subscribe to our Weekly Email from our home page, https://www.moiliilihongwanji.org/. The Weekly Email will keep you informed of upcoming events.