Invitation to Rememberance Day Sunday Service on September 5, 2021 (Online only)

Dear Moiliili Hongwanji Members and Friends,
I would like to welcome you and your family to our Sunday Service on September 5, 2021 at 9:00 a.m.
9/5 REMEMBRANCE DAY SUNDAY SERVICE (Online only*): 
*Due to the new COVID-19 related restrictions, Moiliili Hongwanji will hold Sunday Services via Zoom only until further notice. (No in-person available.)
Remembrance Service: Please contact the office if you would like to honor your loved ones who passed away in September.
Sutra Chanting: "Twelve Homages" (*Red Service Book is available online from here.)
Gatha: "To Live (Ikiru)"
Dharma Message: Rev. Toshiyuki Umitani
Reading: "Our Pledge"
In-Person: Not available at this time.
Online: Please click the Zoom link* to join in the service starting at 9:00 a.m.
ANNOUNCEMENTS:
Feel free to invite your family and friends to our Sunday Service. Your donation is greatly appreciated. <Donate Now>
Foodland Give Aloha Program: Moiliili Hongwanji #79067
Headquarters Update: August 2021 issue 2021-08HQUpdate.pdf
9/12 (Sun) Grandparents' Day Service: Guest Speaker Rev. David Nakamoto
9/19 (Sun) Fall Ohigan Service: Speaker Rev. Toshiyuki Umitani
9/21 (Tue) Peace Day: Peace Day 2021: Ring Your Bell for Peace Day
9/26 (Sun) Lay Speaker Sunday Service: Guest Speaker Mr. Jake Chang
11/6 (Sat) Nembutsu Seminar with Rev. Matt Hamasaki: FallNembutsuSeminar21
Toshiyuki Umitani
Resident Minister, Moiliili Hongwanji Mission

*The Sunday Service Zoom link remains the same each week. To receive the Sunday Service Zoom link, please
contact the office
, or subscribe to our
Weekly Email
of announcements from our
home page
.
---
Additional announcements:
"The White Way" Radio Broadcast for August 28th, 2021
The guest speaker for "The White Way" Radio Broadcast for August 28th, 2021 was Rev. Mieko Majima, Resident Minister of Kapaa Hongwanji Mission. This broadcast was sponsored by Mr. Alan Yokota.
Now through September 30: Foodland's Annual Community Matching Gifts Program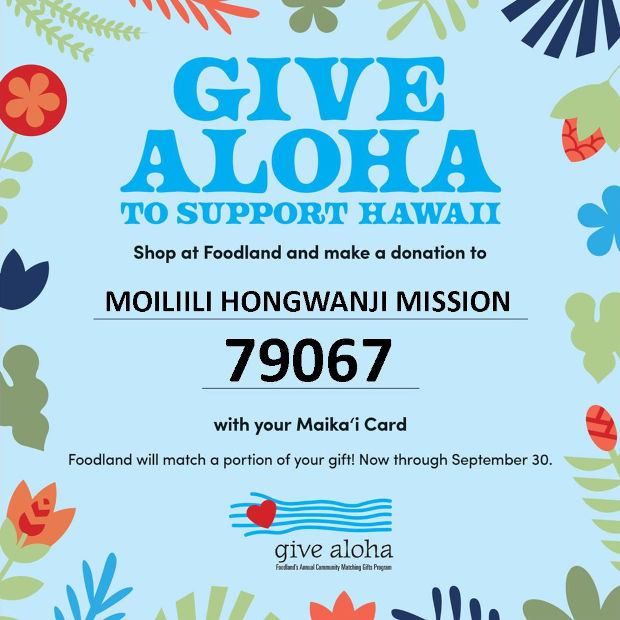 If you shop at Foodland and make a donation to Moiliili Hongwanji Mission, Foodland will match a portion of your gift as part of their Annual Community Matching Gifts Program, Give Aloha.
When: Now through September 30, 2021.
How to Donate:
Shop at Foodland or Sack N Save!
Show your Maika'i card to the cashier at checkout.
Tell the cashier our code 79067 and the amount of your donation (up to $249).
Review your receipt to confirm the following appears:
Moiliili Hongwanji Mission
Your donation amount
Your Maika'i number
Thank you for your support!