"The White Way" newsletter, May 2022
The May 2022 issue of The White Way newsletter is here.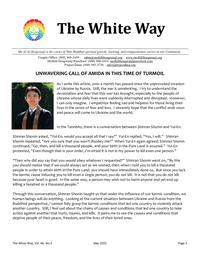 May 2022 (4.5M MB)
Highlights:
MINISTER'S MESSAGE: "UNWAVERING CALL OF AMIDA IN THIS TIME OF TURMOIL" – Rev. Toshiyuki Umitani
STATEMENT ON THE INVASION OF UKRAINE – From the Office of the Bishop, Honpa Hongwanji Mission of Hawaii
MŌ'ILI'ILI SUMMER FEST SCHEDULED FOR JULY 2
Recap: Dharma School Buddha Day Lunch for Firefighters
Moiliili Hongwanji Preschool News – Shared by Wendy Harman, Director
Lay Speaker Teresa Shimogawa
Dharma School Banner: "Peace can begin with us" – Shared by Christopher Meade
Project Dana House Presentation Part 2 – Karen Murakami
And much more!
Many photos!
We have back issues too.