Invitation to Sunday Service on March 26, 2023, with Dharma message by Dr. Brad Nakamura (Jikoen Member)

Dear Moiliili Hongwanji Members and Friends,
I hope this email finds you well within the Compassionate Light of Amida Buddha. I would like to invite you and your family to our Sunday Service at Moiliili Hongwanji.
SUNDAY SERVICE (03/26/2023):
*Time: 9:00 am
*We hold Sunday Service in a hybrid setting. You can join us either in person or via Zoom.
Kansho (Temple Bell)
Vandana & Ti-Sarana
Sutra Chanting: "Gassho to Amida" (*Service Book (PDF) is available online from here.)
Gatha: "A Special Place"
Dharma Message: Dr. Brad Nakamura (Jikoen Member)
Reading: "Creed (I)"
Nembutsu
Acknowledgments & Announcements
In-Person: Anyone is welcome to attend in person.
Online: Please click the Zoom link* to join in the service starting at 9:00 a.m.
ANNOUNCEMENTS
Feel free to invite your family and friends to our Sunday Service. Your donation is greatly appreciated. <Donate Now>
Request for Altar Flowers: We are always in need of flowers for our Temple and Columbarium altars. If you have flowers or tall greens to share, please bring them to the temple by 4:30 pm on Thursdays or by 8:00 am on Fridays.
Hongwanji Passport Program: Did you receive your passport? If not, please pick up one at the temple. Collect six stickers by visiting temples/Offices in the Honolulu District (Betsuin, Jikoen, Windward, Moiliili, HQ, and BSC).
April 2 at 9:30 am – Hawaii Buddhist Council Buddha Day at Jodo Mission. No Sunday Service at Moiliili Hongwanji.
April 9 at 9 am – Moiliili Hongwanji Buddha Day & Remembrance Day Service: Speaker – Rev. Toshiyuki Umitani
White Way Broadcast every Saturday at KZOO Radio (AM1210) from 7:45 am-8:00 am. Listen to KZOO Radio Online (Click "Listen to KZOO" on their website) – 3/25 Speaker: Dr. Dexter Mar (Hawaii Betsuin, Certified Minister's Lay Assistant)
Toshiyuki Umitani
Resident Minister, Moiliili Hongwanji Mission

*The Sunday Service Zoom link remains the same each week. To receive the Sunday Service Zoom link, please
contact the office
, or subscribe to our
Weekly Email
of announcements from our
home page
.
---
Additional announcements:
HONGWANJI SPRING BAZAAR: Sunday, March 26, 8:30a to 1p at Hawaii Betsuin. Honpa Hongwanji Hawai'i Betsuin and sister Honolulu temples are participating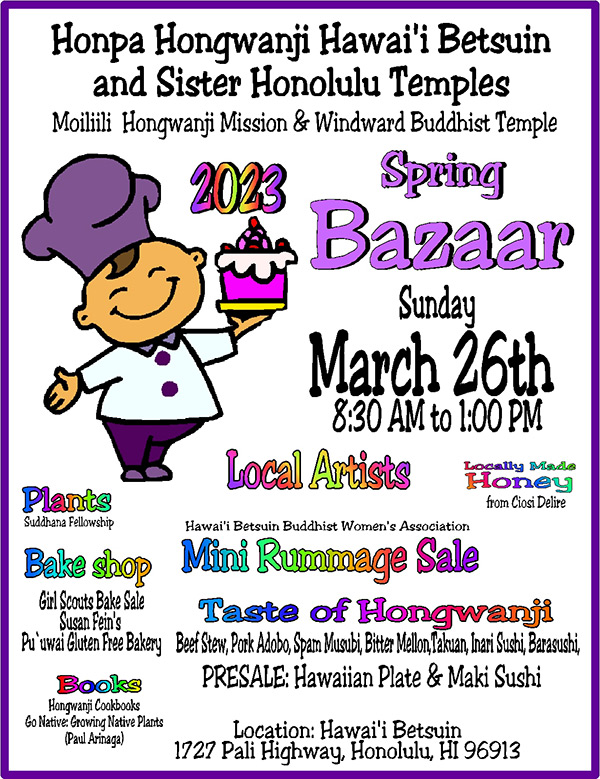 Spring Bazaar Highlights
"Ono-kine" Foods: waffle dogs, manju, bitter melon, takuan, inari sushi, barasushi, spam musubi, chicken katsu, pork adobo, Hawaiian honey and more!
Rummage Sale: housewares, clothes, much more. Deals galore!
Pre-sale for Pickup: Maki Sushi (order online on this page or purchase tickets at the office
Popup Arts and Crafts Sale in the lounge featuring local, innovative creators (see news item)
Specialty items from Moiliili Hongwanji and Windward Buddhist Temple in addition to Hawaii Betsuin
Baked Goods by Girl Scouts and Susan Fein's Pu'uwai Gluten-Free Bakery
Books: Hongwanji Cookbooks, Paul Arinaga's "Go Native: Growing Native Plants"
Plant Sale by Sudhana Fellowship.
More information
For more information, including Parking & Bus info, please see the main event posting:
Honpa Hongwanji Headquarters Update (March 2023)
Please click the link below to read the Honpa Hongwanji Mission of Hawaii Headquarters Update for the month of March 2023.

Headquarters Update March 2023

March 31 – 2023 Taitetsu Uno Memorial Lecture
April 2 – Jataka Tales Special Presentation
April 6 – PBA Artist Showcase
April 11 – A Book Launch Conversation
April 22 – LGBTQIA+ 101 Education Session

HHMH Temples' Anniversary Articles
4/2 HBC BUDDHA DAY SERVICE 2023
Hawaii Buddhist Council
BUDDHA DAY SERVICE 2023
"Hanamatsuri" – Celebrating the Birth of Shakyamuni Buddha
Date:
Sunday, April 2, 2023
9:30 am (HST)
Place:
Jodo Mission of Hawaii
1429 Makiki Street, HNL
Phone: (808)949-3995
Message:
Dr. George Tanabe
"Why We Tell Stories?"
Feature Show: JATAKA TALES @10:45am
by Jeff Gere with Lesley Kline
(co-sponsored by BDK Hawai'i)
Free & Open to the Public
For more information: Please contact (808)949-3995 or email at
mail@hawaiibuddhistcouncil.org