Mō'ili'ili Hongwanji Bon Dance and Mō'ili'ili Summer Fest, July 5-6, 2019, Old Varsity Theatre Parking Lot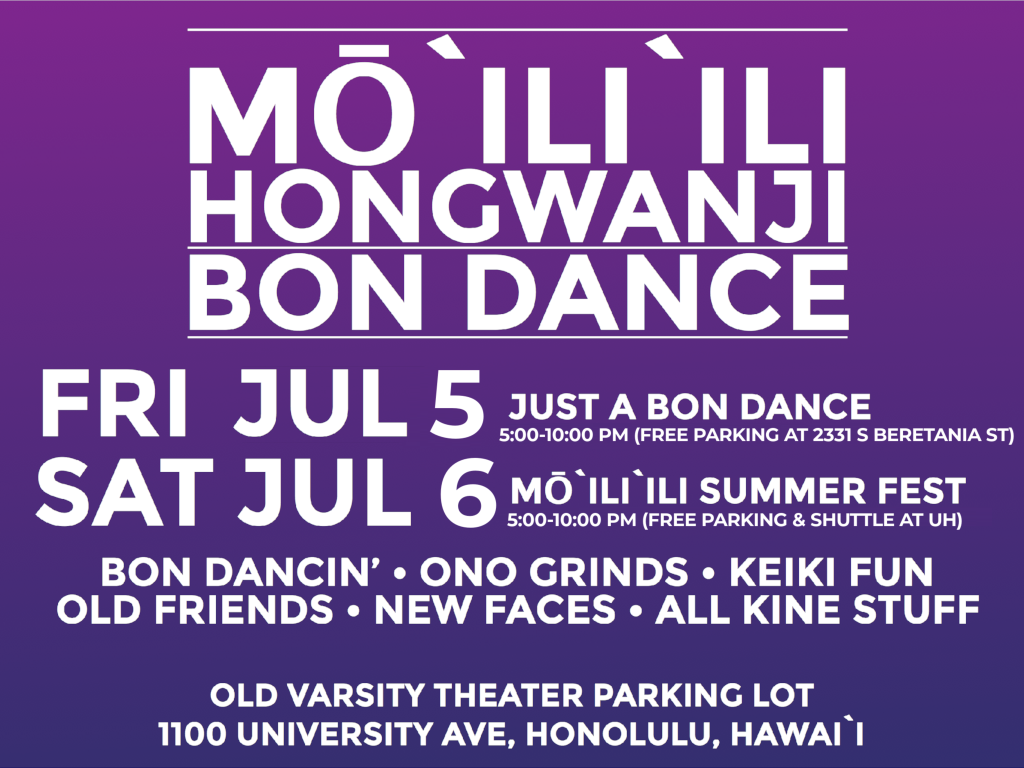 Friday, July 5th, Mō'ili'ili Hongwanji Bon Dance
5 p.m. – 10 p.m.
1100 University Ave (Old Varsity Theater Parking Lot)
Free parking available at 2331 S Beretania Street
Ono food, andagi, retail, activities for the children, and, of course, BON DANCE THE NIGHT AWAY! Everyone is invited!
Bon Dance Practice
There will be Bon Dance Practice at Moiliili Hongwanji on the following Wednesdays: 6/12, 6/19, 6/26 6:30pm-8:30pm in the Annex.
Saturday, July 6th, Mō'ili'ili Summer Fest
5 p.m. – 10 p.m.
1100 University Ave (Old Varsity Theater Parking Lot)
www.moiliilisummerfest.com
COMPLIMENTARY PARKING AT UH FOR GUESTS: Details to follow
The Moiliili Summer Fest is an annual summer event that brings together the community in one of Honolulu's oldest and most vivacious neighborhoods. The event is a collaboration between the Moiliili Hongwanji Mission, Kamehameha Schools, Japanese Cultural Center of Hawaii, Moiliili Community Center and the University of Hawaii.

Join us with family and friends for Honolulu's largest Bon Dance. Savor a variety of food choices and shop at booths by local retailers. Fun activities for the keiki will be available until 9pm with live entertainment throughout the evening.