The White Way newsletter for October 2019 has been published
The October 2019 issue of The White Way newsletter has been published.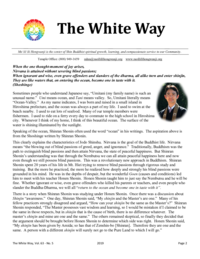 October 2019 (7.5 MB) Highlights:
MINISTERS'S MESSAGE: – Rev. Toshiyuki Umitani
BWA CONVENTION
Announcement of HHMH MINISTER'S LAY ASSISTANT RETREAT, October 11-13, 2019, at Buddhist Study Center
Notice of AMENDMENTS TO THE MHM BYLAWS
Moiliili Hongwanji Bazaar & Open House COMING SOON: October 13th
Announcement of Moiliili Hongwanji FALL SEMINAR: "Dedication and Contribution of Buddhist Minister's Wives (Bomori) in Hawaii": October 26th
Announcement of 2019 NEMBUTSU GATHERING: "Raising a Peaceful Child in Challenging Times": November 2nd at Aiea Hongwanji
Announcement of moving screening: GO FOR BROKE, November 10, 2019
And much more!
Be sure to check out our back issues as well.