"The White Way" newsletter for January 2020 has been published
The January 2020 issue of The White Way newsletter has been published: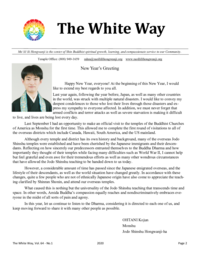 January 2020 (6MB MB)
Highlights:
New Year's Greeting – OHTANI Kojun, Monshu, Jodo Shinshu Hongwanji-ha
NAMO AMIDA BUTSU AND HAPPY NEW YEAR! – Eric Matsumoto, Bishop
Building Healthy Sanghas: Embracing Generosity and Openness – Pieper J. Toyama, President, Honpa Hongwanji Mission of Hawaii
New Year's Message – Rev. Toshiyuki Umitani, Moiliili Hongwanji Mission
Tips for being safe at home – Contributed by Project Dana
Announcement of New Year's Luncheon (Shinnen Enkai) to be held January 19th
And much more!
Many photos!
We have back issues as well.