"THE WHITE WAY" newsletter for March 2020
The March 2020 issue of The White Way newsletter has been published: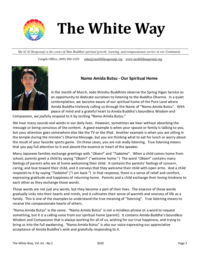 March 2020 (6 MB)
Highlights:
MINISTER'S MESSAGE: "Namo Amida Butsu – Our Spiritual Home" – Rev. Toshiyuki Umitani
"Arigato! Project Dana Volunteers!" – Donna Higashi
Moiliili Hongwanji Buddhist Womens Association News – Lois Ohta & Donna Higashi
Moiliili Hongwanji Preschool News
Spring Seminar Announcement: "It's OK to not be OK," with speaker Rev. Blayne Higa, March 14th
And much more!
Many photos!
We have back issues available as well.