"The White Way" newsletter, January 2021
The January 2021 issue of The White Way newsletter has been published: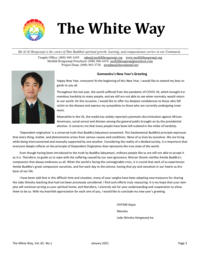 January 2021 (4.3 MB)
Highlights:
Gomonshu's New Year's Greeting
Nurtured by Amida Buddha's Light of Wisdom and Compassion – Bishop Eric Matsumoto
DS Dana Food Drive Recap
DS Thanksgiving Plate Giveaway Recap
HHMH President's New Year's Message – Warren Tamamoto MD, President, Honpa Hongwanji Mission of Hawaii
Post Card Project Recap – contributed by D. Higashi
Minister's 2021 New Year's Message – Rev. Toshiyuki Umitani, Resident Minister, Moiliili Hongwanji Mission
President's New Year's Message – Raymond Takiue, Jr., President, Moiliili Hongwanji Mission
Project Dana New Year's Message – Cyndi Osajima and the entire Project Dana staff
Preschool News – Shared by Preschool Teacher Mariko Osato
And much more!
Many photos!
We have back issues as well.