Invitation to Online Sunday Service on March 6, 2022

Dear Moiliili Hongwanji Members and Friends,
I would like to invite you and your family to our Sunday Service on March 6, 2022, at 9:00 am.
SUNDAY SERVICE (Hybrid):
*We hold the Sunday Service in a hybrid setting. You can join us either in person or via Zoom.
Kansho (Temple Bell)
Meditation and Vandana & Ti-Sarana
Remembrance
Sutra Chanting: "Twelve Homages" (*Service Book (PDF) is available online from here.)
Gatha: "Quest of Life"
Dharma Message: Rev. Toshiyuki Umitani
Reading: "Creed (I)"
Nembutsu
Acknowledgments & Announcements
In-Person: Please wear a mask and get vaccinated/COVID test. No refreshment this time.
Online: Please click the Zoom link* to join in the service starting at 9:00 a.m.
ANNOUNCEMENTS
Feel free to invite your family and friends to our Sunday Service. Your donation is greatly appreciated. <Donate Now>
3/13 Spring Higan Service: Speaker Rev. Kevin Kuniyuki (Retired Minister)
3/25-26 BSC Spring Seminar: Dharma Through the Eyes of Youth
Toshiyuki Umitani
Resident Minister, Moiliili Hongwanji Mission

*The Sunday Service Zoom link remains the same each week. To receive the Sunday Service Zoom link, please
contact the office
, or subscribe to our
Weekly Email
of announcements from our
home page
.
---
Additional announcements:
"The White Way" Radio Broadcast for February 26th, 2022
Our speaker for "The White Way" Radio Broadcast of February 26th was Rev. Tatsuo Muneto, Acting Rimban (Chief Minister) of Honpa Hongwanji Mission of Hawaii, on the topic Basic Needs of Nembutsu Life. This broadcast was sponsored by the Kanazawa Family in memory of Mr. and Mrs. Sakijiro and Haru Kanazawa.
"The White Way" newsletter, March 2022
The March 2022 issue of "The White Way" newsletter is here.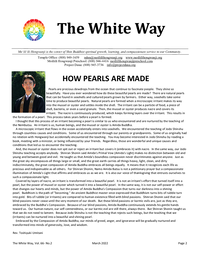 March 2022 (5.2M MB)
Highlights:
MINISTER'S MESSAGE: "How Pearls are Made" – Rev. Toshiyuki Umitani
Project Dana House Presentation – Karen Murakami
Excerpts from Bishop Matsumoto's talk at the 33rd Annual Project Dana Volunteer Appreciation Service
Shinnen Enkai Program 2022 recap
Moiliili Hongwanji BWA News – Shared by Lois Ohta, MH BWA President
Digitizing the White Way Radio Broadcast Tapes Update – Shared by Donna Higashi
Preschool News
And much more!
Many photos!
3/25 and 3/26: Seminar: Dharma Through the Eyes of Youth
Buddhist Study Center Presents
2022 Spring Seminar
Dharma Through the Eyes of Youth
MARCH 25 & 26, 2022
Online via Zoom
Friday, March 25 | 7:00 – 8:30pm
Panel Discussion
Jr. YBA Youth-led activity
Q&A after Discussion
JR. YBA PANELISTS: Manami Alspach, Chihiro Okawa, Kana Suzuki, Jay Yokoyama, and Naho Umitani
Saturday, March 26 | 10:00 – 11:30am
Guest Speaker: Jacob Chang
Panelists
Dharma School / New Member: Wayne Yoshioka
YESS Camp: Dwight Matsuo
Temple Leadership: Wayde Toyama
Q&A
SATURDAY SPEAKERS: Jacob Chang, Wayne Yoshioka, Dwight Matsuo, and Wayde Toyama
Registration is FREE! Donations to the Buddhist Study Center are welcome. Details for how to donate are included at the following registration link:
REGISTRATION LINK IS OPEN NOW (Google Forms)
Registration deadline: Friday, March 18, 2022
See also the event listing for this event at Honpa Hongwanji Mission of Hawaii's website.
The Market Place
You are invited to visit Moiliili Hongwanji's
https://www.moiliilihongwanji.org/market
We are actively adding items to the following categories:
Featuring Now
Kitchen
Home Accessories
Accessories
Cultural Clothing
Craft Kits, Craft Supplies
Handcrafted Items
Gardening
Games & Entertainments
Name Your Best Offer
Items are available via pick-up
at our temple office on University Ave.
Thank you for supporting The Market Place and Moiliili Hongwanji Buddhist Temple.