Invitation to Hybrid Sunday Service on September 18, 2022: AUTUMN HIGAN SERVICE

Dear Moiliili Hongwanji Members and Friends,
I would like to invite you and your family to our Sunday Service on September 18, 2022, at 9:00 am. 
AUTUMN HIGAN SERVICE:
*We hold the Sunday Service in a hybrid setting. You can join us either in person or via Zoom.
Opening Remarks
Kansho (Temple Bell)
Meditation and Vandana & Ti-Sarana
Soraiju
Sutra Chanting: "Sanbutsuge" (*Service Book (PDF) is available online from here.)
Gatha: "Becoming Free"
Dharma Message: Rev. Blayne Higa (Kona Hongwanji Mission)
Reading: "Six Paramitas"
Nembutsu
Acknowledgments & Announcements
In-Person: Anyone is welcome to attend in person.
Online: Please click the Zoom link* to join in the service starting at 9:00 a.m.
ANNOUNCEMENTS:
Feel free to invite your family and friends to our Sunday Service. Your donation is greatly appreciated. <Donate Now>
White Way Broadcast every Saturday at KZOO Radio (AM1210) from 7:45am-8:00am: 9/17 Speaker Rev. Richard Tennes (Retired Minister) Listen to KZOO Radio Online (Click "Listen to KZOO" on their website)
9/21 8:30am- Peace Bell Ringing (Please join us in the temple) Peace Day 2022
9/25 Lay Speaker Sunday Service (Speaker: Dwight Matsuo), BWA Meeting.
10/2 9am-1pm Moiliili Hongwanji Bazaar
10/9 Sunday Service Speaker Rev. Dr. Kenji Akahoshi
10/23 Fall Nembutsu Seminar with Sensei Koichi Mizushima
September is Foodland's Give Aloha Month. Moiliili Hongwanji's code is 79067.
Toshiyuki Umitani
Resident Minister, Moiliili Hongwanji Mission

*The Sunday Service Zoom link remains the same each week. To receive the Sunday Service Zoom link, please
contact the office
, or subscribe to our
Weekly Email
of announcements from our
home page
.
---
Additional announcements:
Now through September 30: Support Mō'ili'ili Hongwanji in Foodland's Annual Community Matching Gifts Program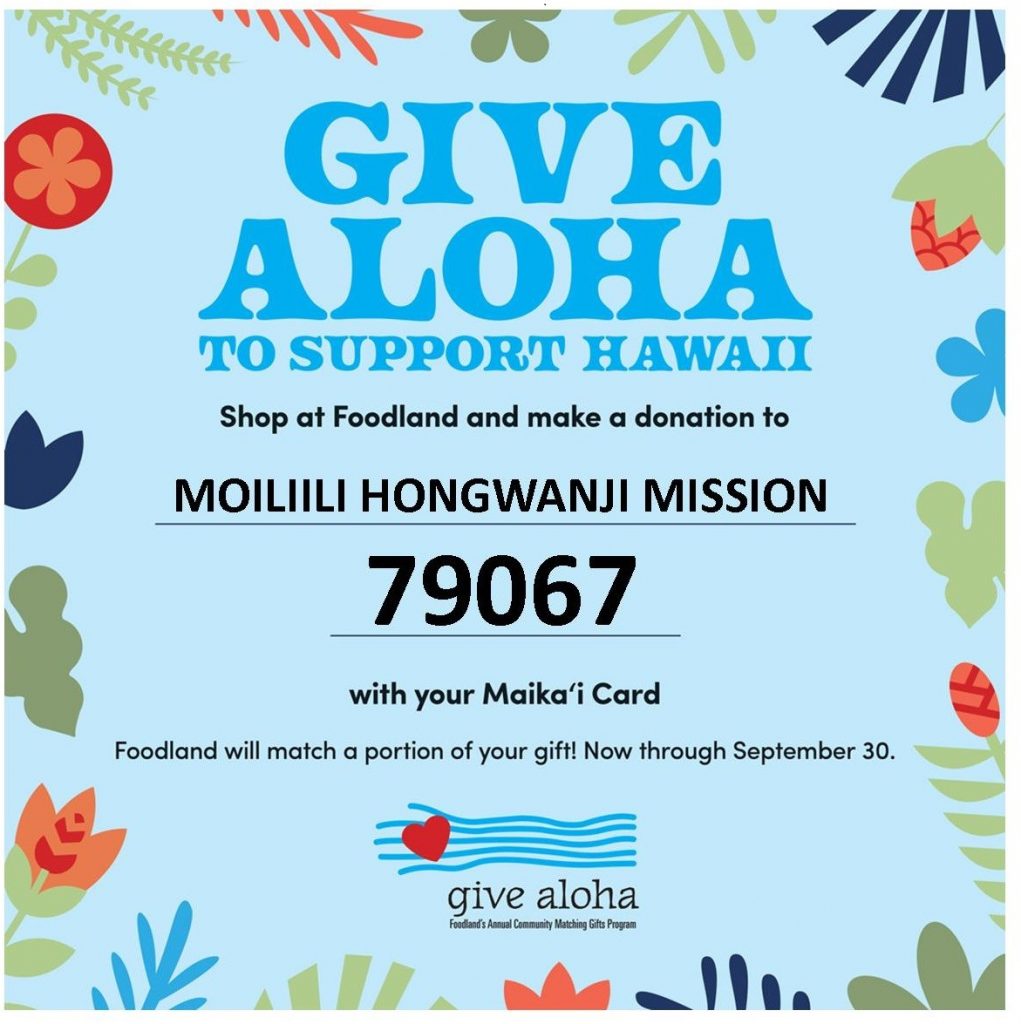 If you shop at Foodland and make a donation to Moiliili Hongwanji Mission, Foodland will match a portion of your gift as part of their Annual Community Matching Gifts Program, Give Aloha.
When: Now through September 30, 2022.
How to Donate:
Shop at Foodland or Sack N Save!
Show your Maika'i card to the cashier at checkout.
Tell the cashier our code, 79067, and the amount of your donation (up to $249).
Review your receipt to confirm the following appears:
Moiliili Hongwanji Mission
Your donation amount
Your Maika'i number
Thank you for your support!
9/17 Oahu District Fall Seminar: "Violence from a Buddhist Perspective," with presenter Dr. Rosalie Tatsuguchi
WHEN: Saturday, September 24, 2022, 1:00-4:00pm
WHERE: both in-person and online via Zoom
In person: Mililani Hongwanji, 95-257 Kaloapau Street, Mililani
(Google Maps, OpenStreetMap)
Via zoom: The Zoom link will be emailed to participants prior to the event.
The Oahu District Fall Seminar features guest speaker Dr. Rosalie Tatsuguchi. She will be talking about "Violence From a Buddhist Perspective." Understanding violence is important. Dr. Tatsuguchi will share how to understand violence from a Buddhist perspective. She will discuss Buddhism as a social science and Buddhistic solutions to violence, and solicit examples from attendees. There will also be time allotted for audience Q&A.
EVERYONE IS WELCOME! REGISTER Online at: https://forms.gle/zn34Lbofy25KFXsG8
~ Or ~
Fill in the flyer form and mail to: Mililani Hongwanji By Saturday, September 17, 2022
DONATIONS WELCOME
All gifts received will be donated to benefit Violence Awareness. Checks can be made payable & mailed to: Mililani Hongwanji
Questions? Call Mililani Hongwanji office at 808.625.0925
About Dr. Rosalie Tatsuguchi
Dr. Rosalie K . Tatsuguchi is a licensed psychologist with a private practice in Honolulu. Her treatment approach blends Buddhist principles and recent Western scientific discoveries. Dr. Tatsuguchi is also an accomplished author. View a complete bio here.
9/21 Ring Your Bell for Peace Day
The Buddhist Temples of Honpa Hongwanji Mission of Hawai'i
invite you to
Ring Your Bell for Peace Day
Wednesday, September 21
Pre-celebration at 8:30 a.m.
Bell ringing at 9:01 a.m.
Please register in advance
bit.ly/PeaceDay2022
10/2 Mini Bazaar
Moiliili Hongwanji Buddhist Temple
invites you to a
Mini Bazaar
When: Sunday, October 2, 2022
Time: 9:00am – 1:00pm
Where: 902 University Ave.
Featuring
Rummage Sale, Plant Sale,
Bake Sale, food items such as Chow
Funn, Chicken Katsu, Vegetable Pasta
Salad, Spam Musubi, Chirashi Sushi,
etc & games.
Parking: Temple grounds & around community
Come and check it out! Very reasonable prices!
10/23: 2022 FALL NEMBUTSU SEMINAR
Sponsored by the Honolulu & Oahu Hongwanji Councils and the Office of Buddhist Education
2022 FALL NEMBUTSU SEMINAR
Creating Dharma Moments Together:
E KOMO MAI! "Welcome… come in!"
LET'S ALL TALK STORY. Join us for a fascinating session as we share ideas about creating Dharma experiences together to make our temples more inviting to all ages. With Rev. Koichi Mizushima and panelists Brad and Joy Nakamura, Cristina Gervais, Kieran Maesaka.
WHEN: Sunday, October 23rd
WHERE: Online via Zoom
FREE to register. Deadline: Sun. October 16
Registration Link: https://forms.gle/L5HFbXeRQcEZ8789A
Donations are welcome. Funds will be designated to Buddhist Education.
Please make donation checks payable to Honolulu Hongwanji Council. Or, use this Donation Link: bit.ly/hhmhdonate