The White Way newsletter, September 2022
The September 2022 issue of The White Way newsletter is here.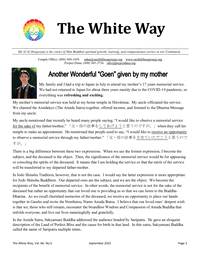 September 2022 (4.5M MB)
Highlights:
MINISTER'S MESSAGE: Another Wonderful "Goen" given by my mother – Rev. Toshiyuki Umitani
Temple Picnic 2022 recap
The Market Place news
REPORT TO THE SANGHA from the Board of Directors
Statement on the Right to Reproductive Freedom – Bishop Eric Matsumoto, Honpa Hongwanji Mission of Hawaii, Rev. Blayne Higa, Chair, HHMH Committee on Social Concerns
Roe v. Wade: A Personal Experience with Abortion – Rev. Marvin Harada, Bishop of Buddhist Churches of America
Rev. Yoshiaki Fujitani's Eulogy – Shared by Karleen Chinen
Mini Bazaar Coming!
CAMPAIGNING FOR OUR TEMPLE'S RENOVATIONS
And much more!
Many photos!
We have back issues too.