Invitation to Hybrid Sunday Service on October 23, 2022

Dear Moiliili Hongwanji Members and Friends,
I would like to invite you and your family to our Sunday Service on October 23, 2022, at 9:00 am.
SUNDAY SERVICE:
*We hold the Sunday Service in a hybrid setting. You can join us either in person or via Zoom.
Opening Remarks
Kansho (Temple Bell)
Meditation and Vandana & Ti-Sarana
Remembrance
Sutra Chanting: "Praises of the Buddha" (*Service Book (PDF) is available online from here.)
Gatha: "Buddha's Little Children"
Dharma Message: Rev. Toshiyuki Umitani
Reading: "Shinshu Pledge (II)"
Nembutsu
Acknowledgments & Announcements
Townhall Meeting & Refreshments in the Social Hall
In-Person: Anyone is welcome to attend in person.
Online: Please click the Zoom link* to join in the service starting at 9:00 a.m.
ANNOUNCEMENTS:
Feel free to invite your family and friends to our Sunday Service. Your donation is greatly appreciated. <Donate Now>
White Way Broadcast every Saturday at KZOO Radio (AM1210) from 7:45am-8:00am: 10/22 Speaker Mrs. Debbie Kubota (Chair, HHMH Commission on Buddhist Education) Listen to KZOO Radio Online (Click "Listen to KZOO" on their website)
10/30 Sunday Service Lay Speaker Mrs. Nancy Shimamoto
11/6 BWA Hoonko Service Speaker Ms. Carolyn Uchiyama
Toshiyuki Umitani
Resident Minister, Moiliili Hongwanji Mission

*The Sunday Service Zoom link remains the same each week. To receive the Sunday Service Zoom link, please
contact the office
, or subscribe to our
Weekly Email
of announcements from our
home page
.
---
Additional announcements:
10/22 Olelo53 will broadcast the Pacific Buddhist Academy's Lighting Our Way Program program
Olelo Channel 53 will broadcast the Pacific Buddhist Academy's Lighting Our Way program on Saturday, October 22nd at 1:30 p.m.
Pacific Buddhist Academy honored Dr. Nancy Atmospera-Walch, Dr. David Lassner, Pieper and Lois Toyama, and Pacific American Foundation for their selfless community achievements. Guests gathered at the Wai`alae Country Club to celebrate them and 20 years of enlightened learning at PBA. Entertainment was provided by the PBA students.
10/23 Town Hall Meeting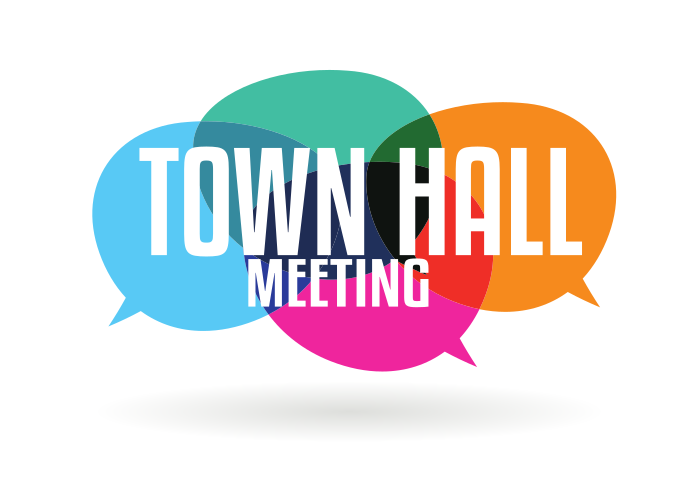 After service this Sunday (Oct 23), we will be having a Town Hall style meeting regarding the MHM CAPTITAL CAMPAIGN, to gather ideas and input for temple plans and initiatives. The meeting will be downstairs in the Social Hall and will start shortly after refreshments, around 10:25 a.m. We'll break into small discussion groups for 20 minutes and then share with the larger group as a whole. Discussion topics include: "How can we improve what we are doing at MH?", "Suggestions for new activities/programs", "How would you like to see the Social Hall and Annex used?", and "What would you like to see (physical improvements) in the Social Hall?".
10/23: 2022 FALL NEMBUTSU SEMINAR
Sponsored by the Honolulu & Oahu Hongwanji Councils and the Office of Buddhist Education
2022 FALL NEMBUTSU SEMINAR
Creating Dharma Moments Together:
E KOMO MAI! "Welcome… come in!"
LET'S ALL TALK STORY. Join us for a fascinating session as we share ideas about creating Dharma experiences together to make our temples more inviting to all ages. With Rev. Koichi Mizushima and panelists Brad and Joy Nakamura, Cristina Gervais, Kieran Maesaka.
WHEN: Sunday, October 23rd, 1:00 – 2:30 PM HST
WHERE: Online via Zoom
FREE to register. Deadline: Sun. October 16
Registration Link: https://forms.gle/L5HFbXeRQcEZ8789A
Donations are welcome. Funds will be designated to Buddhist Education.
Please make donation checks payable to Honolulu Hongwanji Council. Or, use this Donation Link: bit.ly/hhmhdonate
10/29 HIUHBWA Membership Meeting and Education Seminar at Puna Hongwanji.
HIUHBWA Membership Meeting and Education Seminar
The Hawaii Island United Hongwanji BWA (HIUHBWA) will hold its General Membership Meeting and Education Seminar on Saturday, October 29, 2002, at Puna Hongwanji Social Hall. This will be an in-person event.
The Education Seminar, held in conjunction with the Membership meeting, will feature the film: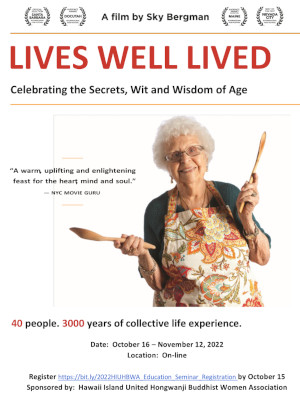 LIVES WELL LIVED
Celebrating the Secret, Wit and Wisdom of Age
The film will be followed that day by a live Dharma talk by Hilo Betsuin's Rimban Kazunori Takahashi relating the film's themes and Jodo Shinshu themes.
Sky Bergman, producer and director of this documentary states:
Four years and forty interviews later, I listened; capturing the images, ideas, and ideals of those who are proving that aging is something to cherish. Through the film, I hope to inspire people of every age to think about what they can do in their own lives to achieve the longevity of both health and spirit that these people have achieved, and to realize that growing older can be a journey to be celebrated.
If you are interested in attending the general meeting and seminar in person, please sign up at the temple office. The cost for the event is $15.00.
10/29 Hawai'i Book & Music Festival featuring an online lecture by author Venessa R. Sasson on the topic "Yasodhara and the Buddha"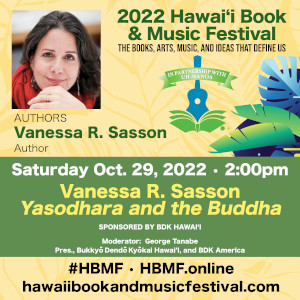 BDK Hawaii will be sponsoring Vanessa R. Sasson to provide an online lecture on Saturday, October 29th at 2pm HST, for the 2022 Hawaii Book & Music Festival. The topic will be "Yasodhara and the Buddha." BDK Hawaii President, Dr. George Tanabe will be the moderator for the event. To register please click on the following link:
https://hawaiibookandmusicfestival.com/2022-schedule