Invitation to Hybrid Sunday Service on November 6, 2022: MOILIILI HONGWANJI BWA HOONKO SERVICE with Dharma message by Ms. Carolyn Uchiyama

Dear Moiliili Hongwanji Members and Friends,
I hope this message finds you well within the Compassionate Light of Amida Buddha. I would like to invite you and your family to our Sunday Service on November 6, 2022, at 9:00 am.
MOILIILI HONGWANJI BWA HOONKO SERVICE:
*We hold the Sunday Service in a hybrid setting. You can join us either in person or via Zoom.
Opening Remarks
Kansho (Temple Bell)
Offering of Lights and Flowers
Vandana & Ti-Sarana
Remembrance of Former BWA Members
Sutra Chanting: "Shoshinge (Verses 1-11)" (*Service Book (PDF) is available online from here.)
Gatha: "Asoka Garden"
Dharma Message: Ms. Carolyn Uchiyama
Gatha: "Ondokusan (II)"
Reading: "Buddhist Women's Association Pledge"
Nembutsu
Acknowledgments & Announcements
In-Person: Anyone is welcome to attend in person. Refreshments after the Service.
Online: Please click the Zoom link* to join in the service starting at 9:00 a.m.
ANNOUNCEMENTS:
Feel free to invite your family and friends to our Sunday Service. Your donation is greatly appreciated. <Donate Now>
November 13 – Eitaikyo Service: Guest Speaker Rev. Ai Hironaka (Lahaina Hongwanji). Monthly Remembrance – Please contact the office if you'd like to honor your loved ones who passed away in the month of November. Veterans Recognition.
November 20 – Regular Sunday Service: Speaker Rev. Toshiyuki Umitani
White Way Broadcast every Saturday at KZOO Radio (AM1210) from 7:45am-8:00am Listen to KZOO Radio Online (Click "Listen to KZOO" on their website) – 11/5 Speaker: Mr. Blayne Nakasone (Ryukoku University, Scholarship Student)
Honpa Hongwanji Mission of Hawaii 2023 Master Calendar is attached.
11/18 – Kauai District Nembutsu Seminar "A look at Shinran Shonin's Life and Thought" with Rev. Dr. Miyaji Takashi (Flyer attached)
11/19-20 Maui District Nembutsu Seminar "Change or Die" with Rev. Bob Oshita (Flyer attached)
12/4 9:30am – Hawaii Buddhist Council Bodhi Day Service at Jodo Mission of Hawaii. Speaker Roshi Michael Kieran of Palolo Zen Center. Hybrid Service.
12/10 Online Seminar "Never Alone: Shin Buddhism and End-of-Life Care" by Rev. Tatsuo Muneto (Flyer attached)
Toshiyuki Umitani
Resident Minister, Moiliili Hongwanji Mission

*The Sunday Service Zoom link remains the same each week. To receive the Sunday Service Zoom link, please
contact the office
, or subscribe to our
Weekly Email
of announcements from our
home page
.
---
Additional announcements:
The November 2022 issue of The White Way newletter is here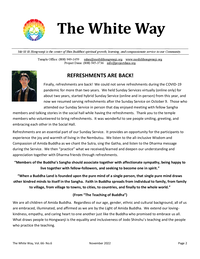 November 2022 (4.5M MB)
Highlights:
MINISTER'S MESSAGE: REFRESHMENTS ARE BACK! – Rev. Toshiyuki Umitani
New Year's Services
REPORT TO THE SANGHA from your Board of Directors
ZIPPY'S FUNDRAISER
CAMPAIGNING FOR OUR TEMPLE'S RENOVATION–UPDATE 2
Temple Refreshments Teams Schedule and Invitation to join a team
Mini-Bazaar Mahalo
Home Covid 19 tests available – Project Dana
Mahalo to Foodland Donors
Dharma School Food Drive: Nov 6 to Dec 18
And much more!
Many photos!