The November 2022 issue of The White Way newsletter is here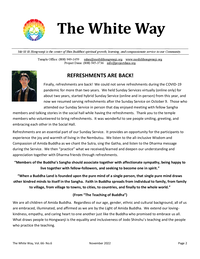 November 2022 (4.5M MB)
Highlights include:
MINISTER'S MESSAGE: REFRESHMENTS ARE BACK! – Rev. Toshiyuki Umitani
New Year's Services
REPORT TO THE SANGHA from your Board of Directors
ZIPPY'S FUNDRAISER
CAMPAIGNING FOR OUR TEMPLE'S RENOVATION–UPDATE 2
Temple Refreshments Teams Schedule and Invitation to join a Refreshments Team
Mini-Bazaar Mahalo
Home Covid 19 tests available – Project Dana
Mahalo to Foodland Donors
Dharma School Food Drive: Nov 6 to Dec 18
And much more!
Many photos!